The 2015 Toyota Camry Hybrid Boasts Impressive MPG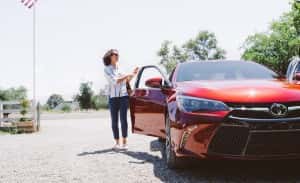 The 2015 Toyota Camry Hybrid prides itself as one of the most popular hybrid variations currently available in the midsize sedan segment, and the mpg it's capable of reaching is a significant factor. The staff at Earl Stewart Toyota is confident that you'll be impressed by the 2015 Toyota Camry Hybrid's mpg ratings and performance level.
How It Works
Toyota's dual-motor Hybrid Synergy Drive system powers the 2015 Toyota Camry Hybrid, with a 2.5L 4-cylinder direct overhead cam shaft gasoline engine with a 16-valve system that adjusts timing to reduce emissions. The incorporated battery pack is a permanent magnet AC synchronous motor that gets 650V with a sealed nickel-metal hydride battery that produces 244.8V.
Energy is generated through both the battery pack and gasoline engine and sent to the front wheels. To bring it all together, the Hybrid Synergy Drive system comes with an electronically controlled continuously variable transmission that shifts gears automatically for efficient driving based on your driving style.
Performance
The 2015 Toyota Camry Hybrid produces 200 hp when the gas and electric components work in unison. It can accelerate to 60 mph in just 7.6 seconds, quite a speedy time for a hybrid sedan of the Camry's size, and provides a well-rounded and dynamic ride complete with precise steering. To round out its performance capabilities, the Camry Hybrid comes equipped with a finely tuned suspension to ensure a smooth ride, keeping you and your passengers from feeling most ruts and bumps in the road.
Fuel Efficiency
The 2015 Toyota Camry Hybrid gets an impressive 43 mpg in the city and 39 mpg on the highway, figures that boost it ahead of much of the competition. And although larger tires on one of the upper trims lower those figures to just 40 city mpg and 38 highway mpg, they benefit the vehicle in that they increase rolling resistance for better handling.
Discover the 2015 Toyota Camry Hybrid Today!
Come to Earl Stewart Toyota at 1215 US-1 in Lake Park, FL to get behind the wheel of the 2015 Toyota Camry Hybrid. And since we're open seven days a week, you can contact us with any questions before you stop by. We can't wait to get you in a Camry!