About Us
The Benefits of Buying from Earl Stewart Toyota
When you purchase a new or used vehicle at Earl Stewart Toyota, you will become a member of the Tires for Life program! This value is yours for as long as you own your vehicle and continue to have your factory recommended maintenance done by us.
Earl Stewart Toyota is pleased to announce the Service Expense Refund Program. When you purchase/lease a vehicle from Earl Stewart Toyota and trade in the vehicle that was serviced in our Service Department in the past 30 days, we will credit the money you spent for service on your trade, up to $500. For more details, see a salesperson or call 1-888-616-2033.
The absolute highest level of accomplishment for a Toyota Technician is that of Master Diagnostic Technician. These are the true geniuses of modern auto repair. At Earl Stewart we have 5 Master Diagnostic Technicians with one more on track for certification for late 2013.
In addition to our state of the art Service Center, we also have a Rental Center on site that offers daily, weekly or monthly rates, a fully stocked Parts Department, and a Collision Center that repairs all makes and models and works with all major insurance companies.
Earl Stewart Toyota Awards and Recognitions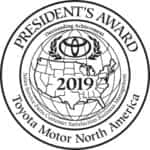 President's Award
Earl Stewart Toyota is a recipient of the 2019 Toyota President's Award. This is the 16th consecutive year we have won. Each year, Toyota Motor Sales recognizes its stellar dealerships with the prestigious President's Award. It's a very high honor a dealership can receive from Toyota, and is only awarded to those dealerships who have demonstrated a commitment to maintaining Toyota's high standards for customer satisfaction.One of Toyota's primary goals is to emphasize the entire ownership experience. We want to help ensure that our customers are satisfied not only at the time of purchase, but as long as they own their vehicle. Offering top quality cars and trucks is, of course, the first step – but only the beginning. Toyota dealerships strive to match the quality of our products with the finest service in the industry. In order to qualify as a President's Award winner, dealerships must excel in each of a series of categories, including Customer Sales Satisfaction and Customer Service Satisfaction. Dealerships which meet the requirements in all categories receive name badge recognition at all dealer events, national recognition in an Automotive News advertisement and a beautiful President's Award Tiffany crystal trophy.
President's Cabinet
In 2012 we were honored with the President's Cabinet – this was the fifth year we were honored with this award. The President's Cabinet Award is Toyota's most exclusive and prestigious honor. Limited to a maximum of only 12 dealerships nationally, this elite award recognizes a combination of operational superiority, high-volume sales and, most importantly, outstanding customer satisfaction performance.
Board of Governors
Also in 2012 we were selected for the Board of Governors. This was the fifth consecutive year we were honored with this selection. Each year, an elite group of individuals are honored by Toyota Motor Sales for all their sales success, hard work and dedication with the Board of Governors designation. This elite group understands that a successful business is built by keeping customers happy. To be considered for the Board of Governors award, a dealership must be among the top 60 dealers in non-fleet vehicle sales volume, must be in operation for the entire year, plus numerous other requirements. These high standards ensure that a Board of Governors dealer is committed to your customer satisfaction.